» Site Map

» Home Page

Historical Info

» Find Friends – Search Old Service and Genealogy Records

» History

» QAIMNS for India

» QAIMNS First World War



» Territorial Force Nursing Service TFNS

» WW1 Soldiers Medical Records

» Field Ambulance No.4

» Chain of Evacuation of Wounded Soldiers

» Auxiliary Hospitals

» War Graves Nurses




» Book of Remembrance

» Example of Mentioned in Despatches Letter

» Love Stories

» World War 1 Letters

» QA World War Two

» Africa Second World War

» War Diaries of Sisters

» D Day Normandy Landings

» Belsen Concentration Camp

» Voluntary Aid Detachment

» National Service

» Korean War

» Gulf War

» Op Telic

» Royal Red Cross Decoration

» Colonels In Chief

» Director Army Nursing Services (DANS)

» Colonel Commandant

» Matrons In Chief (QAIMNS)

Follow us on Twitter:




» Grey and Scarlet Corps March

» Order of Precedence

» Motto

» QA Memorial National Arboretum

» NMA Heroes Square Paving Stone

» Memorial Window

» Army Medical Services Monument

» Recruitment Posters

» Museum

» QA Association

» Standard

» QA and AMS Prayer and Hymn

» Books


Former Army Hospitals

UK

» Army Chest Unit

» Cowglen Glasgow

» CMH Aldershot

» Colchester

» Craiglockhart

» DKMH Catterick

» Duke of Connaught Unit Northern Ireland

» Endell Street

» First Eastern General Hospital Trinity College Cambridge

» Ghosts

» Hospital Ghosts

» Haslar

» King George Military Hospital Stamford Street London

» QA Centre

» QAMH Millbank

» QEMH Woolwich

» Medical Reception Station Brunei and MRS Kuching Borneo Malaysia

» Musgrave Park Belfast

» Netley

» Royal Chelsea Hospital

» Royal Herbert

» Royal Brighton Pavilion Indian Hospital

» School of Physiotherapy

» Tidworth

» Wheatley


France

» Ambulance Trains

» Hospital Barges

» Ambulance Flotilla

» Hospital Ships


Germany

» Berlin

» Hamburg

» Hannover

» Hostert

» Iserlohn

» Munster

» Rinteln

» Wuppertal


Cyprus

» TPMH RAF Akrotiri

» Dhekelia

» Nicosia


Egypt

» Alexandria


China

» Shanghai


Hong Kong

» Bowen Road

» Mount Kellett

» Wylie Road Kings Park


Malaya

» Kamunting

» Kinrara

» Kluang

» Singapore

» Terendak


Overseas Old British Military Hospitals

» Belize

» Falklands

» Gibraltar

» Kaduna

» Klagenfurt

» BMH Malta

» Nairobi

» Nepal


Middle East

» Benghazi

» Tripoli


Hospital Barges

History of the First World War Hospital Barges used by the British Army on the River Seine and canals in France and Belgium to evacuate casualties:


During World War One casualties were evacuated by train, boat and barge. The hospital barges were much slower, but did make for a smoother and more gentle journey. Though the journey took longer it did allow for the Queen Alexandra's Imperial Military Nursing Service nurses to tend to the injuries of the wounded soldiers and perform daily dressings and for the troops to recuperate from their wounds and the effects of war.


In the Company of Nurses: The History of the British Army Nursing Service in the Great War
cites that by the end of 1915 there were four additional Ambulance Flotillas making the number of barges transporting the wounded to sixteen.

The war diary of Queen Alexandra's Imperial Military Nursing Service Reserve (QAIMNSR) staff nurse Miss Mildred Rees can be read in Women in the War Zone: Hospital Service in the First World War
which includes her time at No. 4 Ambulance Flotilla Barge 192 during the Battle of The Somme in France. She describes nursing up to 300 casualties during each trip that would take from 24 to 48 hours to evacuate patients to the hospital trains further down the line. During this time Staff Nurse Mildred Rees had to cut off the dirty clothing from the mud and blood of the trenches and then wash the soldiers, clean their wounds and dress them. She was also responsible for ensuring the soldiers were fed. Common wounds were fractures of the limbs, and abdominal and chest wounds.

The book Sub Cruce Candida: A Celebration of One Hundred Years of Army Nursing
has photos of QAs, patients and the hospital barges used by the British Army.

The hospital barges were not specifically built or designed for troop evacuation or as a hospital until a few years into the Great War. Instead they were converted from a range of general use barges such as coal or cargo barges. Access hatches would be cut into the roofs and hand operated lifts built so that stretcher cases could be lowered to the hold. The lift would be operated by the cook when additional help was needed. The holds would be converted into 30 bedded hospital wards and QAIMNS nurses accommodation. These sleeping and living quarters were heated by two stoves and electric lighting was fitted to the barges and electric fans could be run in the French and Belgian heat of summer or the hatches lifted off areas of the roofs.


The book It's a Long Way to Tipperary: British and Irish Nurses in the Great War
by Yvonne McEwen has extracts from the war diaries of QA's who served aboard hospital barges.


The electric lights would be turned off at night to avoid being an easy target for German fighter pilots. Nurses would have to make their rounds in the pitch dark using a small torch. The nights could be long but did provide some rest for the other staff because the hospital barges would only travel during the daylight hours because they had to pass through narrow under bridges which often only had inches to spare. Negotiating these tight under bridges was much easier in the light of day.

From the outside the hospital barges were painted grey with a large red cross on each side to signify that they were non combatant and carrying wounded soldiers. The interior of each hospital barge was painted white. Ventilation was provided by ventilators in the side of the roofs and as the war progressed sky lights were built into the barges.

The sailing skipper of each hospital barge was usually a Royal Engineer (RE) sergeant and the barges would be towed by steam tugs.





I have published a book which tells the story of The Grey Lady Ghost of the Cambridge Military Hospital which reveals her origins in the QAIMNS and where she meets a QA veteran of Afghanistan. She still walks her wards and tells her story by taking Scott Grey, a QARANC nurse, to the battlefields of World War One and beyond. This is the first in the series of Grey and Scarlet Novels by CG Buswell. Read the first chapter for free.




If you like this page and would like to easily share it with your friends and family please use the social networking buttons below:






No 1 Ambulance Flotilla

The photos of hospital barges on this page come from the collection of Acting Matron Kate Read who served for 6 months in 1915 (May to October) on No.1 Ambulance Flotilla. Sister Kate Read also served for 6 months each at No.6 General Hospital Rouen, 18 Casualty Clearing Station and 32 CCS ending up with 3 months at No.6 CCS before leaving the army to marry.

The photograph above is the exterior view of No.1 Ambulance Flotilla being towed on the Seine by a tug with medical staff posing on the pair of barges at the rear, The photograph shows all three pairs of barges, each with their flagpoles flying the Red Cross and one red cross can be seen on the side of the nearest barge.

This next picture shows the interior of a ward with one of the stoves and the central electric light common to hospital barges of World War One.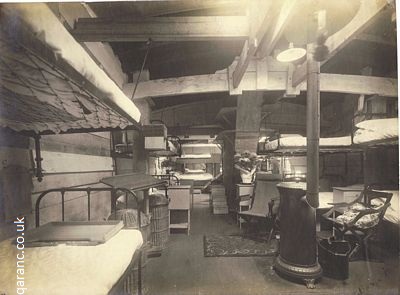 This picture of the No 1 Ambulance Flotilla Staff show Colonel & Mrs Yate with medical staff. Sister Read has written the names of the staff, nurses and doctors, on the back of this photo. It reads from left to right

1st row as: M. Gossip – med. Officer, Col. Yate – M.P., M. Greenfield – med. Officer, Capt. Bowles – The skipper, M. Boyle – M.P. (a bit of him only), M. Mulholland – med. Officer and M. Grant – M.P.

2nd row: Sister Coulson, Sister Mills, Mrs. Yate, Capt. O'Grady, Matron [Acting Matron Kate Read], Sister Bayly.

3rd Row: Sister Cooke, Sister Draper, M. Sainsbury, Sister Cameron and Sister Gibbens.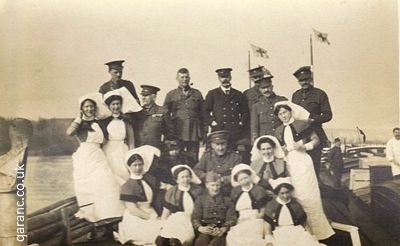 The wooden deck of the barge could be slippery when wet and it was common for a QA to end up in the canal water! This was usually in the winter with the rain and ice and the awaiting canals freezing water. Many nurses and orderlies would solve the problem of the slippery decks by overcoming their embarrassment and crawling along on all fours.

Though there were happy times aboard hospital barges such as sing a longs when the gramophone was played or in finer weather when the soldiers and nursing staff would sit on the decks and the roofs with fishing rods in the hope of catching some fish for supper. Many QAs would enjoy the sunshine on the roof, still dressed in their ankle length ward dresses, stockings, capes and veils with only their faces and hands exposed to the French sun!

During periods of rain the roofs would leak and the nurses and orderlies would have to keep moving the patients beds to avoid the larger drips of rain water.

Some hospital barges kept pets to help keep up the morale of patients, nurses and staff. Cats were a common pet or mascot and It's a Long Way to Tipperary: British and Irish Nurses in the Great War
by Yvonne McEwen tells of a magpie that had been injured and was taken aboard a hospital barge and kept as a pet. It became tame and would wander about. The skipper looked after it and the magpie would wake him up each morning by pulling his hair or ear! Even the magpie fell overboard on several occasions and had to be rescued!

The hospital barges usually travelled in pairs down the River Seine and the French canals in the British controlled zones to the evacuation ports or to casualty clearing stations and base hospitals. There would usually be at least one QA Sister, staff nurse and Royal Army Medical Corps (RAMC) orderly per hospital barge. At the height of World War One there were five flotillas of hospital barges. Each flotilla had six hospital barges which would travel in pairs. Each pair of travelling hospital barges would be commanded by an RAMC Medical Officer, usually of Captain rank. The barges that sailed with a full load of patients would have a staff compliment of one QA nursing officer, a staff nurse, an RAMC sergeant, corporal, three nursing assistants, two general orderlies, a cook and a cook's assistant.



Staff would be stationed to the hospital barge and had accommodation on the barge. When the patients were offloaded from the barge there was no time to rest. The barge had to be thoroughly cleaned, especially since as the war progressed many soldiers were evacuated straight to a hospital barge rather than a field hospital or dressing station. These soldiers were often ridden with lice and were filthy coming straight from the trenches and battlefield.

There was often problems with the gas attacked patients. The smell of gas would remain on their clothing and breath and even in their wounds, especially when blisters burst. The lack of ventilation meant that nurses, other patients and staff would suffer a mild gas attack that caused problems such as sickness, watery or sore eyes and breathing problems.

The rations, general stores, medicines, dressing etc had to be restocked and when the opportunity arose staff would be sent to a nearby town to buy fresh food such as fruit and vegetables.




Forces War Records

Forces War Records are a genealogy site where you can find military records of over 6 million British Armed Forces personnel cross matched with over 4000 Regiments, Bases and Ships. This link includes a free search and a special discount of 40% off membership offer for visitors who use the discount code AF40 if they decide to become a member.
Search Now. A unique feature is their WW1 Soldiers Medical Records section.








If you would like to contribute to this page, suggest changes or inclusions to this website or would like to send me a photograph then please e-mail me.



Official QARANC webpage.

QA Association website.

In The Company of Nurses Book.


***********************************************






The Grey Lady Ghost of the Cambridge Military Hospital Novel - a Book by CG Buswell


Read our posts on:

Facebook

Google+

Twitter


Offers

Army Discounts






Present Day

» Become An Army Nurse

» Junior Ranks

» Officer Ranks

» Abbreviations

» Nicknames

» Service Numbers

Ministry of Defence Hospital Units

» MDHU Derriford

» MDHU Frimley Park

» MDHU Northallerton

» MDHU Peterborough

» MDHU Portsmouth

» RCDM Birmingham



Field Hospitals

» Camp Bastion Field Hospital and Medical Treatment Facility MTF Helmand Territory Southern Afghanistan






Territorial Army

» TA Field Hospitals and Field Ambulances


Photos

» Florence Nightingale Plaque

» Photographs


Uniform

» Why QA's Wear Grey

» Beret

» Lapel Pin Badge


» Army School of Psychiatric Nursing Silver Badge

» Cap Badge

» Corps Belt

» ID Bracelet

» Silver War Badge WWI

» Officer's Cloak

» QAIMNSR Tippet

» Officer Medal


Events

» Armed Forces Day

» Recreated WWI Ward

» Reunions

» Corps Day

» Freedom of Rushmoor

» Re-enactment Groups

» Military Events

» Remembrance

» AMS Carol Service

» QARANC Association Pilgrimage to Singapore and Malaysia 2009

» Doctors and Nurses at War

» War and Medicine Exhibition

» QA Uniform Exhibition Nothe Fort Weymouth


Famous QA's

» Dame Margot Turner

» Dame Maud McCarthy

» Military Medal Awards To QAs

» Moment of Truth TV Documentary

» Sean Beech


Nursing Events

International Nurses Day


Info

» Search

» Site Map

» Contact

» Websites



We are seeking help with some answers to questions sent by readers. These can be found on the Army Nursing page.



» Find QA's

» Jokes

» Merchandise

» Mugs

» Personalised Poster

» Stamp

» Teddy Bears

» Pin Badges

» Wall Plaques

» Fridge Magnet



» The Abandoned Soldier